PORT-A-PROTECTOR
FINALLY AN ANSWER TO AN ECONOMIC STORAGE FACILITY
Single Port-a-Protector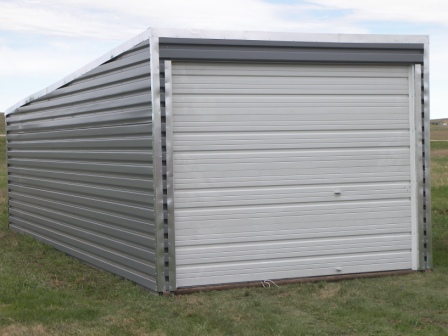 Gregorian Inc also has the ability to fuse two of these structures to create a double stall garage. This makes a wonderful double garage!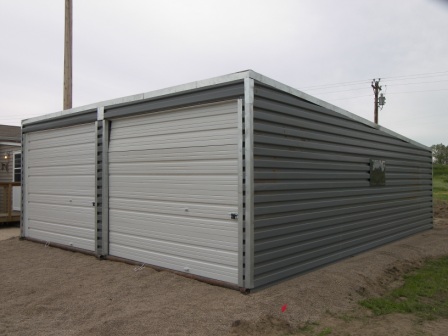 THE PORT-A-PROTECTOR COMES IN MANY DIFFERENT SIZES!!!!
12' x 24' 12' x 28' 12' x 32'
the front measures 9.5' tall and the rear measures 7.5' tall
or if you have a need for a double (as pictured above) ask about our
24' x 24' 24' x 28' 24' x 32'
*SAFE *AFFORDABLE *DURABLE *PORTABLE
The PORT-A-PROTECTOR is great for consumers whom are prohibited from having a permanent structure on their property but still want the solid protection of a steel building as well as the option of mobility. Framed with 2 and 7/8 in. pipe on the bottom and 14 gauge solid steel tubing for the truss, and sheeted with 22 gauge primed SUPER-STEEL. These shelters withstand the elements and are built to last. The building will come fully assembled with a high quality 10' x 8' garage door for easy entering and exiting the structure. A secure anchoring system provides stability without limiting the structures portability.
These buildings can be customized with windows and walk through doors to meet the growing needs of our valued consumers.